1936 US Olympic Tryouts Track & Field Program Signed by Jesse Owens
Below is a list confirmed Signatures and details about each athlete
--Page One --
Kermit King - Long Jump 4th Place, US National 1st Place in 1937.
Joshua Williamson - High Jump 1st Place, Junior Champion Atlantic.
Eddie Gordon (edward gordon) - Long Jump 6th Place, Finished 7th in Long Jump at 1928 Olympics, and won Gold medal at 1932 Olympics.
Jesse Owens - Gold Medal Winner 100, 200, Long Jump, 400 Relay 1936 Olympics.
Froy Draper - 4×100 m relay Gold 1936 Olympics, Stood only 5 feet and 5 inches and was part of the Owens 4x100 m relay team.
Louis Brothers - 800 Meter.
Ad Davis (adrian davis) - Discus.
Al Threadgill - High Jump Tie 4th Place.
Ralph Metcalfe - 4x100 m Relay Gold, 100 m Silver 1936 Olympics, 1932 Olympics 100 m Silver, 200 m Bronze.
Cornelius Johnson - High Jump Gold Berlin Olympics, Placed 4th in 1932 Olympics at age 18
Jack Thornley - Javelin, 3rd place at 1936 NCAA Track and Field Championships.
David Albritton - High Jump Silver Medal 1936 Olympics, 1st place at 1936 NCAA Track and Field Championships.
Ross Bush - 5th Place 800 m.
Jim Miller (james miller) - 800 m.
Mal Metcalf (malcolm metcalf) Javelin, 1932 Olympics 7th Place Javelin.
Phil Levy - Discus, USA Champ 1st or 2nd place during 1936-1942.
Melvins "Bus" Shimek - Marquette M Squad - Captain in 1927 - One of the pioneers in the growth of track and field, Melvin "Bus" Shimek left an indelible mark on the sport. Shimek coached notable athletes such as Ken Wiesner, a silver medalist in the high jump in the 1952 Olympics, John Bennett, a long jumper who captured the silver medal in the 1956 Olympics, Olympian Ralph Metcalfe, who won more sprint titles than any other MU runner, and Bob Allen, an All-American in 1954.
Ben Johnson "Columbia Comet", 100 m and 200 m, Was a rival to Jesse Owens but was injured a week before the AAU.
Benjamin Eastman - 800 m, 1932 Olympics 2nd place 400 m.
George Werntz - Javelin, Threw for Colgate University.
Mack Robinson - 200 m Gold, 2nd place in 1936 To Jesse Owens.
Mulan Zari - unknown.
Jack Torance - Shot Put 5th Place, Shot Put AAU Champion, Broke world record many times.
John Brooks - Long Jump 7th Place, Brooks had a role in coaching Tidye Pickett, the first African-American woman to compete in the Olympic Games.
Bob Green - Triple Jump.
Eulance Peacock - 100 m.
-- Page Two --
Edward Burke - High Jump 4th Place, Original "African American" High Jump record holder.
Glen Dawson - 3000 m steeple chase, competed in 1932 and 1936 olympics.
Glen Smith (?) - 5000 m.
Herschel Neil - Triple Jump 4th Place.
J Williamson - High Jump 1st Place, AAU Jrs Atlantic City, NJ.
Harold Manning - 3000 SC - 5th at Olympics, 1936 Olympics 5th place, Set many world records from Wichita, Kansas.
Archie Harris - Discus, From Ocean City, NJ - Harris became the first and only Black athlete to set a world record in the discus, doing so in winning a NCAA championship held at Stanford.
Chester Cruickshank - Hammer Throw, Top US Champion within 2-6 rank for over 8 years. Distinguished Service Cross recipient.
Hugh Cannon - Discus 1st Place in jrs, Hugh Steffensen Cannon unofficially broke the world discus record seven years after he graduated from BYU in 1936. Competing in June 1943 as an ensign in the US Navy, Hugh's toss of 174'10.17" was the highlight of the Metropolitan AAU championships at New York City's Randall Island Stadium. It bettered the existing world record by more than seven inches.
Norman Bright - 5000 m 5th Place, Top 5 finisher in 5000 m for 5 years in the US - Bright once held the American record in the two-mile run.
R Gaurloh - Pole Vault - 1st jrs.
William Sefton (bill sefton) - Pole Vault 4th in Olympics, Placed 4th in Pole Vault at the 1936 Olympics. Sefton broke the pole vault world record several times in 1937.
Joseph McCluskey - 3000 M Steeple Chase, 1932 3000 SC Bronze Medalist.
Michael Portanova - 3000 M Steeple Chase 7th Place.
Louis Zamperini - 5000 M - 2nd Place, 5000 M - 8th at 1936 Olympics.
Harry Williamson - 800 m 3rd Place, 800 m 6th at 1936 Olympics.
Elwyn Dees - Shot Put, From Kansas.
Glenn Cunningham - 1500 m 1st Place, 1936 1500 M Silver Medal, 1932 1500 M 4th Place.
Duke Hobbs (Marmaduke Hobbs) - 800m 7th Place.
Ernest Federoff - 1500 m 6th Place.
James LuValle - 400 m 3rd Place, 1936 olympics 400 m Bronze medal.
Don Lash (Donald Ray Lash) - 5000 + 10000 m, Don was an American long-distance runner who won 12 national titles from 1934 to 1940, including seven consecutive men's national cross-country championships, and who set a world's record for the two-mile run in 1936.  In June 1936, he broke Paavo Nurmi's world record for the two mile, running 8:58.4, besting Nurmi's record by 1.2 seconds.
Paul Mundy - 5000 m 8th Place. 
Frederick "Fritz" Pollard Jr - 110 Hurdles - Bronze Medal 1936, He also competed as a member of the university's varsity boxing team. Pollard competed for the United States in the 1936 Summer Olympics in Berlin in the 110 meter hurdles where he won the bronze medal.
Jack Rood (?) - Pole Vaulter.
Donald Sherman (?) - Long Jump.
David Wegernt (?) - Pole Vaulter.
Harvey Wallender - 200 m - 6th Place, NCAA runner-up in 200 meters in 1936.
Melvin E. Walker (mel walker) - High Jump 4th Place tie, Walker benefitted from a rule change that had previously outlawed diving, or clearing the bar first with his head. Walker used a variation of the Western roll.
The 1936 United States Olympic trials for track and field were held in July 1936 and decided the United States team for the 1936 Summer Olympics in Berlin. The trials for men and women were held separately; men's events were held at Randall's Island Stadium in New York City on July 11 and July 12, while women competed at Brown Stadium in Providence, Rhode Island on July 4.
The top three athletes in each event qualified for the Olympic Games. The women's meeting also served as the annual outdoor track and field championships of the Amateur Athletic Union (AAU); the men's AAU championships were held separately a week before the Olympic trials.
Official world records were set in the men's meet by Cornelius Johnson and Dave Albritton in the high jump; Glenn Morris's winning score in the decathlon was also a world record, but not ratified. Harold Manning, winner of the 3000 meter steeplechase, set an unofficial world best. Jesse Owens won three events, equaling the world best for 200 meters around a curve.
The 1936 Olympic trials were marked by the emergence of African-American athletes, including Owens, Johnson and Albritton; as many black athletes qualified for the men's team in 1936 as at all previous Olympic trials combined. On the women's side, Tidye Pickett qualified in the 80-meter hurdles, becoming the first African-American woman to compete in the Olympics.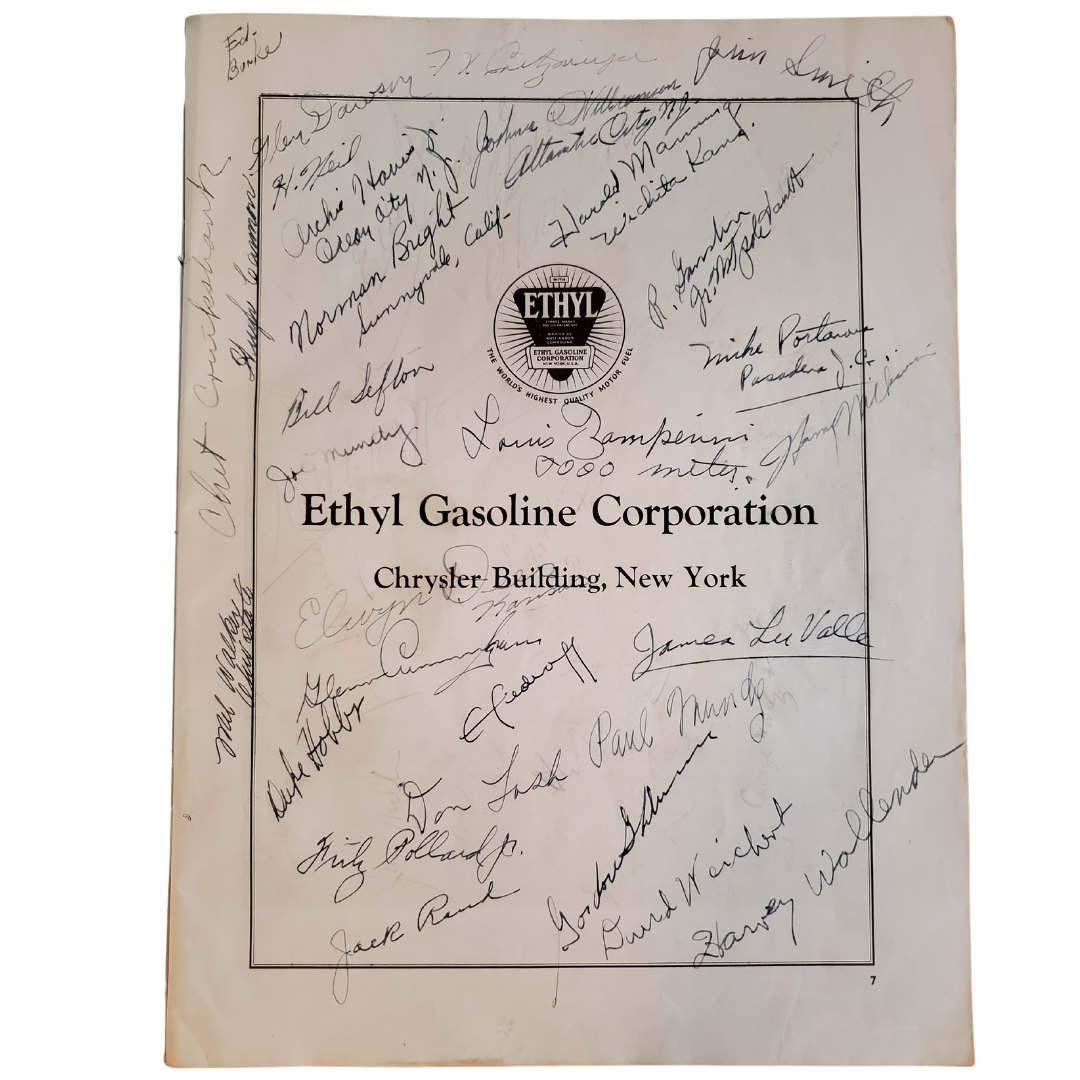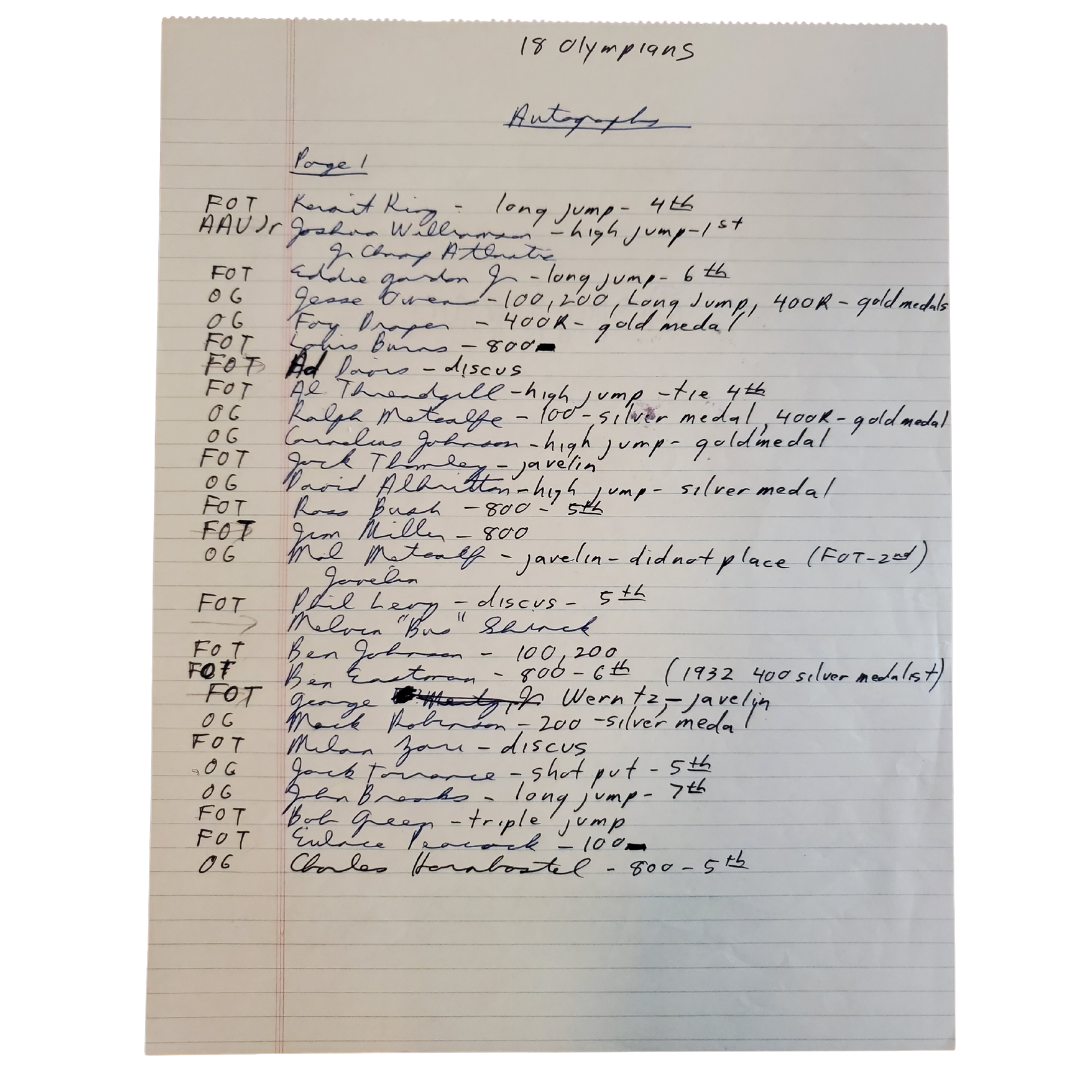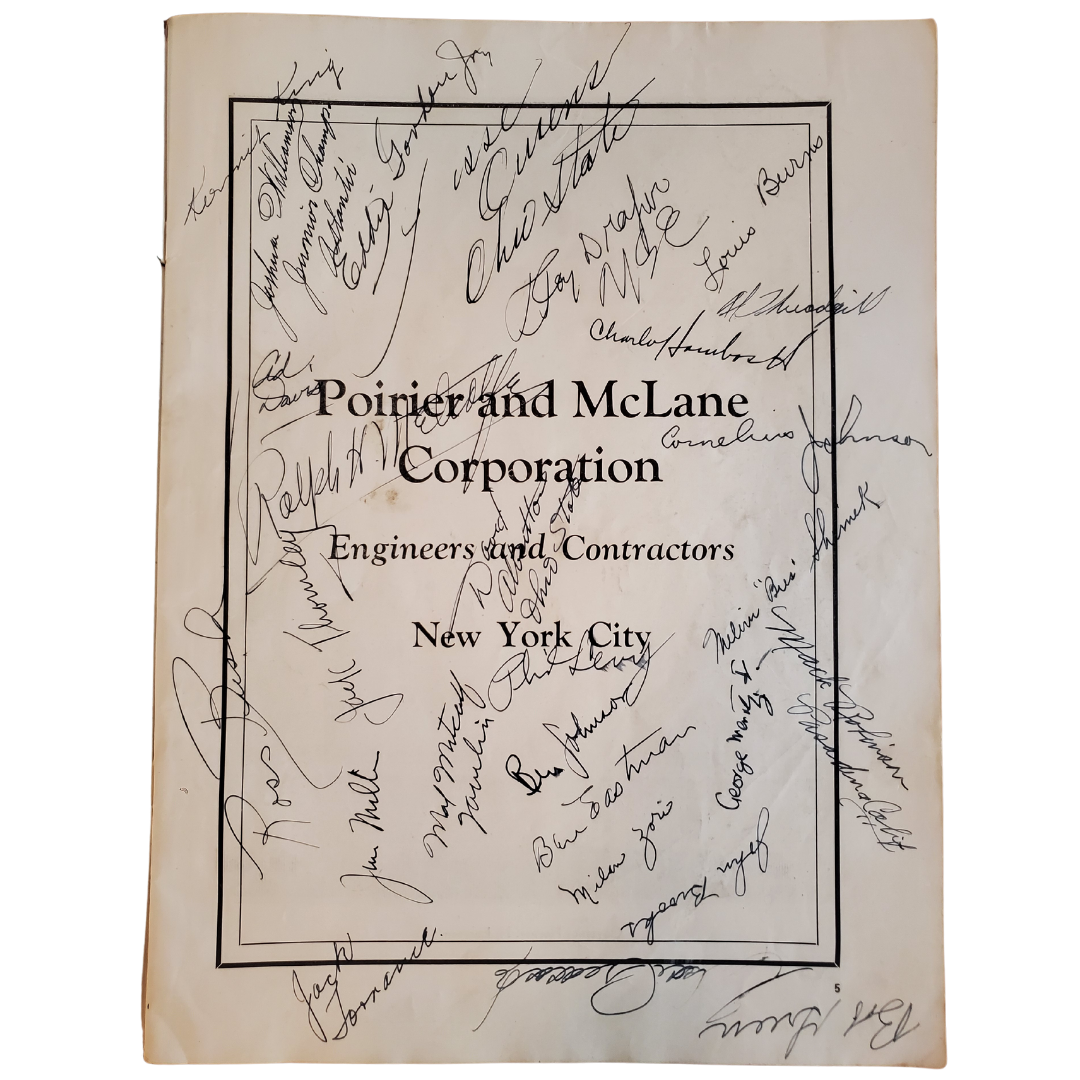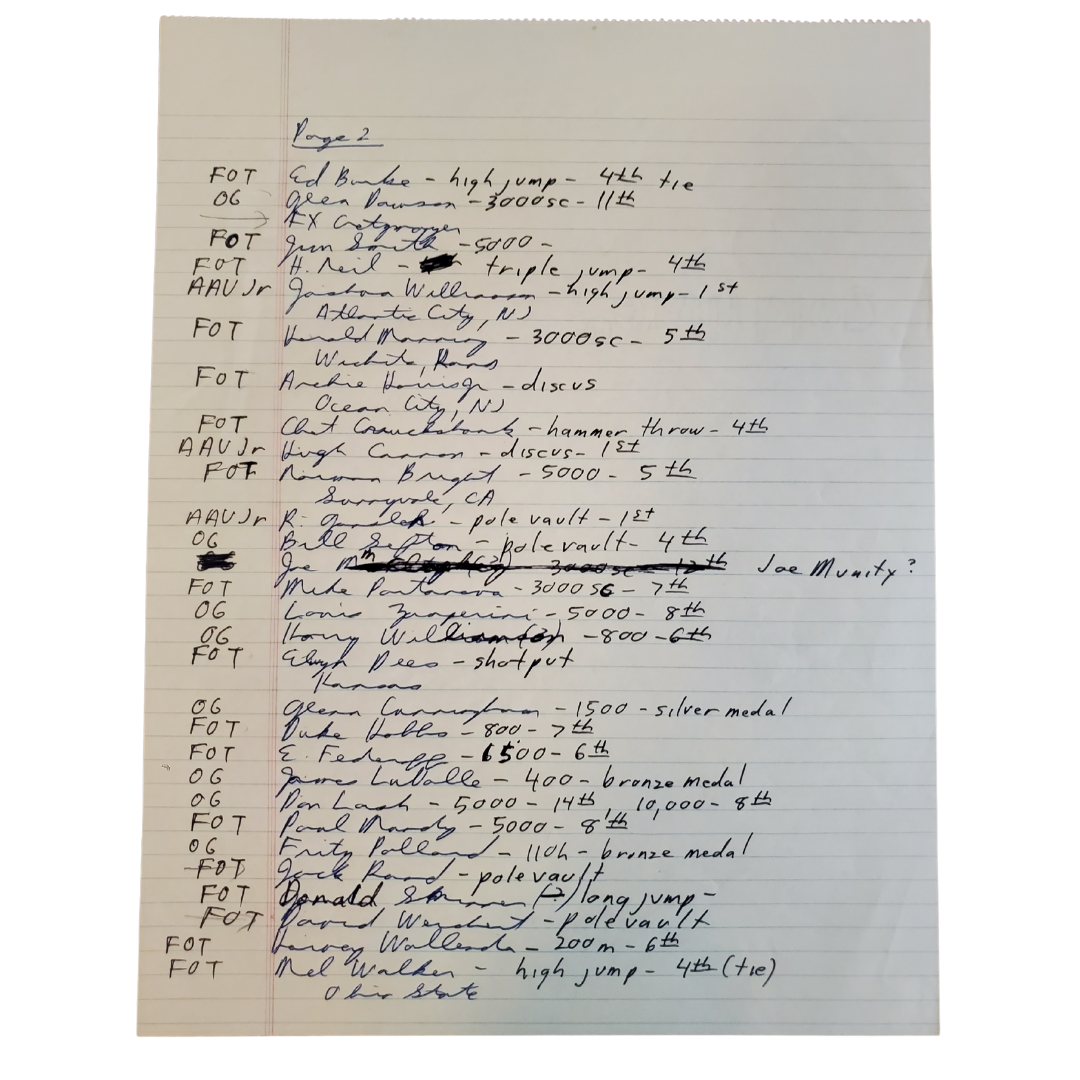 1936 US Olympic Tryouts Swimming & Diving Signed by Johnny Weissmuller
Below is a list confirmed Signatures and details about each athlete
--Page One --
Stanley Beacon (?) - Pitte, Pinna
Elbert Root - 10 M Diver, Silver 1936 Olympics, An American diver who competed in the 1936 Summer Olympics. In 1936 he won the silver medal in the 10 metre platform event.
Terry Kimball - unknown
Jack Kasley - men's 200-meter breaststroke, Men's 200-meter breaststroke world record-holder, and made semi finals at 1936 Olympics.
ET Kemuich (?) - unknown
Ray Kaye - 200-meter breaststroke, Kaye competed in the semifinals of the men's 200-meter breaststroke.
Al Greene (alan greene) - 3 m springboard, 3rd 1936 olympics, In 1936 he won the bronze medal in the 3 m springboard event..
Charlie Dichl (NYAC) (?) - unknown
Marsl Wayne (?) - unknown
Nick (richard) Kempster Degener - 3 m springboard, 1936 Olympics Gold Medal, He won a bronze and a gold medal in the 3 m springboard at the 1932 and 1936 Olympics, respectively. Degener introduced the full layout in which his body seemed to soar, lazy-like and graceful in the air. This astonished the diving world and caused a buzz of admiration around the pool. "If there is one thing I've gotten out of sports, it's that I learned to be intense and to do the job."
Bob (robert) J. H. Kiphuth - Kiphuth also served as the head coach for multiple U.S. Olympic swimming teams (both men and women, depending on the year). From 1947 to 1949, he doubled as Yale's athletic director. He was largely responsible for the modern sport of swimming, which he shaped by introducing such innovations (now standard practices) as dryland workouts and interval training. He was an American swimming coach and college athletics administrator. He served as the head men's swimming coach at Yale University for 41 years, from 1918 to 1959. During his tenure with Bulldogs swimming and diving, he amassed a record of 520 wins to only 12 losses, along with four NCAA titles (1942, 1944, 1951, 1953),earning him a reputation for being the winningest coach in history.
Ralph Flanagan - As a 13-year-old at the 1932 Summer Olympics in Los Angeles, California, Flanagan competed in the semifinals of the men's 1,500-meter freestyle.  Four years later at the 1936 Summer Olympics in Berlin, Germany, he won a silver medal as a member of the second-place U.S. team in the men's 4×200-meter freestyle relay. Individually, he finished fourth in the men's 400-meter freestyle and fifth in the men's 1,500-meter freestyle.
Steve Forsyth - Associate Coach of the 1936 US Olympic Swimming Team, coached Ralph Flanagan and Katherine Rawls.
"Phil" Buchanan Jr - unknown
Arthur Berg - from Coral Gables, FL
Charles (charlie) Hutter - was an American competition swimmer who represented the United States at the 1936 Summer Olympics in Berlin, Germany.  He competed for the second-place U.S. team in the first round of the men's 4×100-meter freestyle relay.
Al Beacon (Pitt, PA) - unknown
Johnny Weissmuller - Inside Cover Signed - was an American Olympic swimmer, water polo player and actor. He was known for having one of the best competitive swimming records of the 20th century. He set numerous world records alongside winning five gold medals in the Olympics. He won the 100m freestyle and the 4 × 200 m relay team event in the 1924 Summer Olympics in Paris and the 1928 Summer Olympics in Amsterdam. Weissmuller also won gold in the 400m freestyle, as well as a bronze medal in the water polo competition in Paris.
The 1936 United States Olympic trials for Men's Swimming & Diving.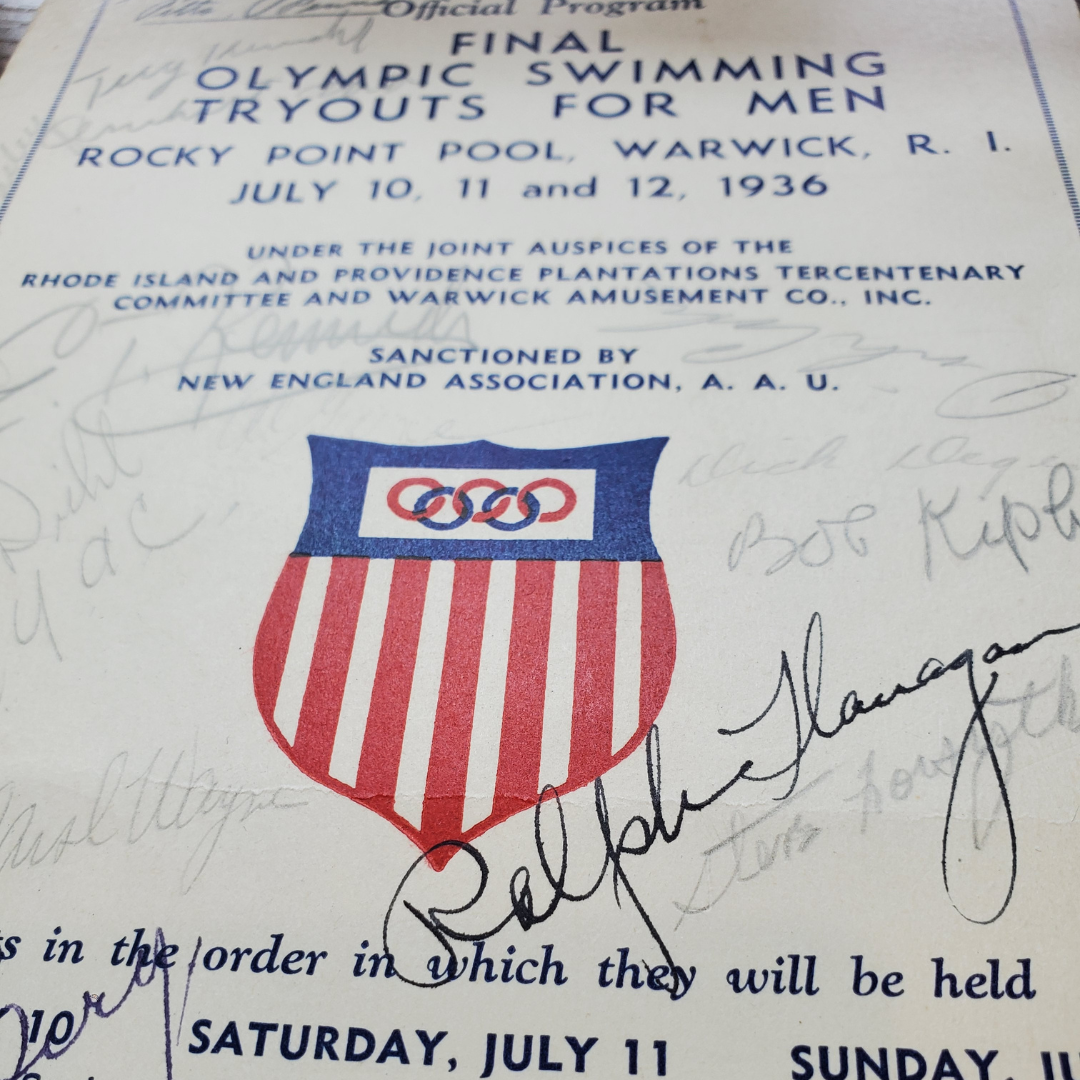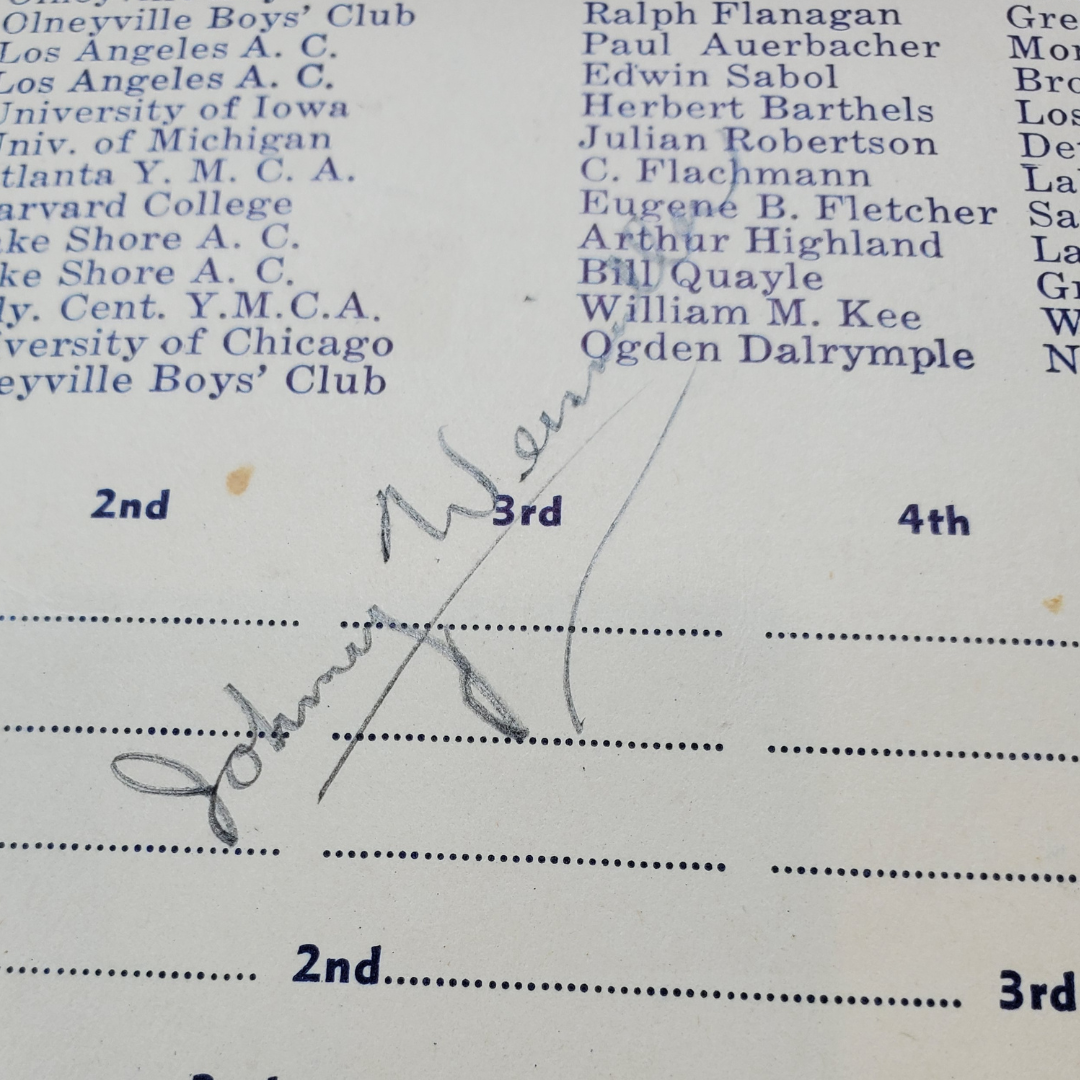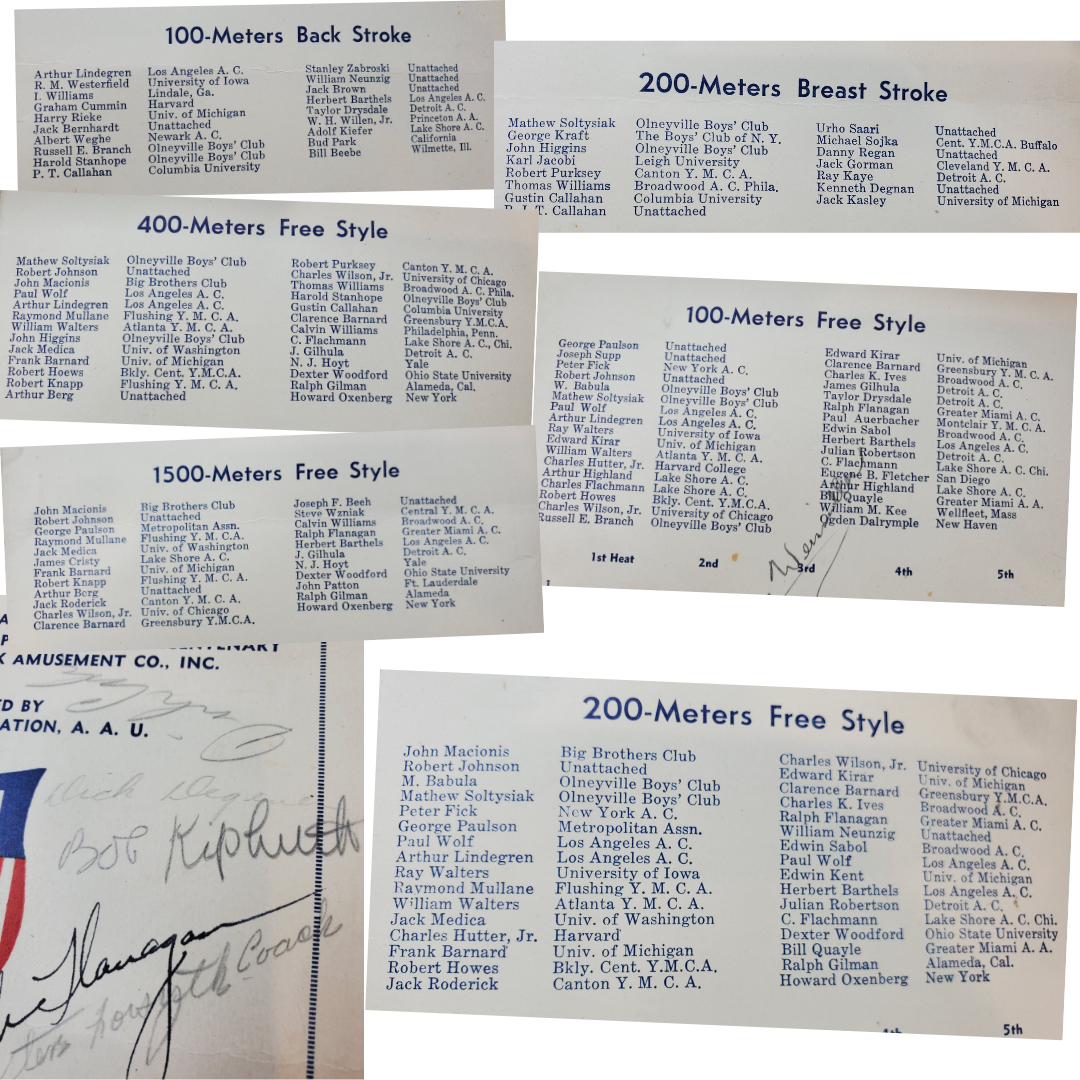 1960 Sqwaw Valley Olympics Signed Document By French Team
A letter written from Squaw valley on 17th February 1960. Sharing stamps from the event and several autographs from French Olympians in 1960.
France won 3 medals at the Olympics, a Gold by Jean Vuarnet in Men's Downhill. A Bronze by Guy Périllat also in Downhill Skiing. And A Bronze by Charles Bozon in Men's Slalom. All 3 of the medalists are represented in this document.
Identified Signatures:
Guy Périllat - Bronze, Down Hill Skiing
Charles Bozon, Bronze, Slalom,  down hill skiing 8th
André Kouprianoff, speed skating 500 m, 1,500 m, 5,000 m, 10,000 m
René Mandrillon, Cross Country
Adrien Duvillard, Downhill, GS, Slalom
Jean Vuarnet, Gold Men's Downhill
This program is for an exhibition game before the 1964 Olympics  playing against the west coast champions NBA team with Wilt Chamberlain. This signed program includes all players from the GOLD medal winning 1964 Olympic team.
Jim Barnes, Bill Bradley, Larry Brown, Joe Caldwell, Mel Counts, Dick Davies, Walt Hazard, Lucious Jackson, Pete McCaffrey, Jeff Mullins, Jerry Shipp, George Wilson, and Coach Hank Iba
This is a beautifully signed 1968 Mexico City Olympics Document. Measuring about 2 feet by 1.5 feet and on thick card stock.  The signatures are from East Germany and West Germany athletes and the majority of them are medal winners.  This was given to a supporter of the Germany Olympic team by the German Sports Aid Foundation.  This was the first time the East & West Germany Olympic team competed together.
Diane Moyer's Los Angeles 1984 Summer Olympics Medalist Multi-Signed Flag
From the personal collection of Diane Moyer, a goalkeeper for the Team USA women's field hockey team that won a bronze medal at the Los Angeles 1984 Summer Olympics.
Diane shared this about her experience:
Representing the United States at the Olympics was truly an experience of a lifetime. I remember the feeling of walking into the opening ceremonies. Standing shoulder to shoulder with my teammates, realizing what we had accomplished to get there, and the fact that we were about to experience something great, competing in the Olympic games.
I will never forget standing on the podium with my teammates to receive our medal. Flags were raised and trumpets played, the medal hung around our necks. We turned to each section of the stadium and waved with joy, pride, and triumph.  Being in that moment and realizing where I was, simply took my breath away.
And then there were Closing ceremonies were athletes walked back into the stadium, arm in arm without regard to nation.
Competing in the Olympics was an exciting time and I wanted to take in as much as I could. The outcome was important, but what made the outcome so meaningful were the memories of the journey that will be cherished for a lifetime.  "
-----
Dual-sided 17 x 10.75 paper flag from the "U.S. Olympic Medal Winners Tribute," a five-day tour of American medalists from the Los Angeles 1984 Summer Olympics.
Both sides of the flag are signed in ink and ballpoint by approximately 50 Olympic medal-winning athletes, including: Ed Banach (wrestling), Bruce Baumgartner (wrestling), Gwen Cheeseman (field hockey), Timothy Daggett (gymnastics), Paul Enquist (rowing), Dean Glenesk (modern pentathlon), Flo Hyman (volleyball), Wanda Jewell (shooting), Janice Lawrence (basketball), Greg Losey (modern pentathlon), Chip Lubsen (rowing), Mario Martinez (weightlifting), Anita Miller (field hockey), Diane Moyer (field hockey), Marcella Place (field hockey), Marie Roethlisberger (gymnastics), Lisa Rohde (rowing), Melanie Smith (equestrian), Bobby Weaver (wrestling), Dave Wilson (swimming), Lynette Woodard (basketball), and more. In fine condition, with some creases and bends.