My Favorite Olympics Research and Resources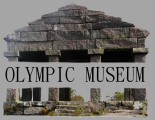 Virtual Museum of Olympic Summer Games collector pieces, memorabilias, rare items and important facts and Information. This is one of the most comprehensive sites that include individual games information such as tickets, medals, reports, and other specific data.
Juergen Wagner, Germany

Olympedia is the most reliable source for finding the dates and times for certain events. If you are searching for tickets for a gold medal match, you can figure out if the ticket corresponds to the right event.  There is an easy way to look at all games data and the athletes that won medals within the navigation.
Collaboration among Olympic statisticians

Ingrid is one of the most reliable and trusted auctioneers of Olympics medals, tickets, and other items.  Her archived auctions include a wealthy of pricing information and examples of items.
Ingrid O'Neil