PORTLAND OREGON FOUNDER & SENATOR, BENJAMIN STARK, 1878, BANK CHECK SIGNED
An original bank check drawn from Benjamin Stark's account at the National Bank Commerce in New London, Connecticut.
The check is dated November 27th 1878 and is made out for the amount $2,536.17. There is a purple ink stamp from the bank indicating this was paid. Bolded signed by Benjamin Stark.
Benjamin Stark was one of the founders of Portland, Oregon. He was also a Senator and a member of the House of Representatives. There is a lot of interesting information about Benjamin Stark available elsewhere.
There are a few small holes and minor discoloration, signs from a revenue stamp being removed, else in very good condition.
2-2023-$55
CIVIL WAR GENERAL RUFUS INGALLS SIGNED FORT VANCOUVER WASHINGTON TERRITORY LETTER
General Rufus Ingalls was US Grant's roommate and closest friend at West Point and served in the Mexican War and on posts with Grant in the Pacific Northwest. Grant so trusted Ingalls judgment that he made him Chief QM for the Army of the Potomac and also was placed inc charge of assisting the Freedmen. An Original January 8, 1850 letter from Ingalls, a Captain and Asst QM at Fort Vancouver (Washington Territory) to General Thomas Jesup re statements of persons hired by him for Dec 1849. The 1p 8 x 11" ink letter on blue paper is VG w minor age stains at folds, edge wear, Overall VG. Comes w bio infor for General Ingalls. A nice signed letter from historic Fort Vancouver, the fur trading post and HQ for the Hudson Bay Company located on the Columbia River, Vancouver, Washington.
2-2023-$230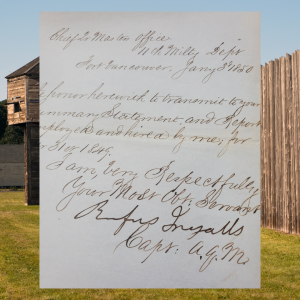 Oregon Senator George Chamberlain 1909 Signature
5 1/4" x 5 1/4"  clipped signature from Oregon Senator George Chamberlain.  The senator was in office from 1909-1921.  The signature is on Senate memo paper.
The signature is generally in good condition.  Some fading due to age.  Some wear and tear along the edges.  Glue marks and number on back.
2-2023-$25